About
THE BIGGEST MISTAKE'S MANIFESTO
The Biggest Mistake commands you listen to it. It is no mere podcast. It is a beacon of hope in an otherwise dark world. It is a podcast that makes all other podcasts look like what they are: good in their own way, but different than our podcast… and then some.
But The Biggest Mistake is not just a podcast. It is a website that allows you, the participant, to explore the world of Co-Hosts Dan Dominguez and Paul Jay. To keep abreast of their triumphs, projects, and projected triumph projects.  It is a community of people coming together to celebrate the two things they enjoy most: Dan Dominguez and Paul Jay.  Sure Dan Dominguez and Paul Jay aren't Scientologists, but that doesn't mean they don't have influence in Hollywood, or for that matter, believe in Thetons.  Sure Dan Dominguez and Paul Jay haven't won academy awards, but that's just because they have elected not to, because they feel being awarded something is for people that need the approval of others, and also, less importantly, because they have done nothing to merit their receiving an academy award.
Here at The Biggest Mistake you can check out the podcast, watch videos, read things Dan and Paul put up, talk to each other, contact Dan or Paul and let them know what you've done to appease them lately… the list goes on and on.  Basically, since Dan Dominguez and Paul Jay, when combined, make up 90 to 95 percent of all popular culture currently going on in the world, if you do not regularly listen to the podcast and come to the web page you will undoubtedly be left out of all your office water cooler conversations, your father and mother will shun you, your skin will blanch and peel off, and your wife and children will, one at a time, leave you for either Dan Dominguez or Paul Jay.
You can contact, Dan Dominguez, Paul Jay or the podcast at: thebiggestmistakeofall@gmail.com
Or you can leave us a message at: (213) 260-0244
(Please note that any message you leave may be used on the podcast.)
Daniel Dominguez, co-host of The Biggest Mistake, came to Los Angeles with a dream. His dream was to be a semi-professional waiter at a restaurant on the Sunset Strip, live in a one-bedroom apartment that he could barely afford, not have health insurance, and when his friends called to ask him to hang out, he hoped he could one day be heard to say things like, "Yeah, I'm too tired right now. Work is killing me." And, "Oh man, no, my boss, he switched me with Kate, yeah, I know, he didn't even fucking ask me, so I can't go to Lollapalooza with you guys. Yeah, I know, but what can I do?"
Unfortunately for Dan, he was never able to live his dream, because upon moving to Los Angeles he was quickly swept into the world of comedy writing and performing.  Though sometimes he'll stand outside Miyagi's Sushi Bar on the Sunset Strip for hours, just staring into the slightly tinted windows and enviously watching the waiters live what Dan refers to as "The Life", and what the waiters themselves refer to as, "No I can't get New Years off, they're understaffed". Then Dan will look up at the moon with a tear on his cheek, and ask God why he couldn't be part of that sweet, sweet world. Even though he knows no answer will come.  Because Daniel's God is a Mute Fox that lives on the planet Saturn who belches a viscous fluid that can be used to either cure small scrapes and cuts, or kill a child molester.
Speaking of Daniel's potent masculinity, and his ropey, muscled forearms that are basically dripping with naked sexual aggression, Daniel is the recipient of many awards and honors, including the Fade-In Screenwriting Contest, a NALIP Writing Fellowship, and is an active member of the WGA and it's Independent Writer's Caucus.  He wanted to include an AYSO Junior League Soccer Trophy, except, apparently, having asthma and not being able to block soccer balls makes you, and I quote, "A shitty goalie."
Paul Jay came to California from Iowa, a state where he could and did pass for Armenian. He used to want to write screenplays until he found out that only three people in the history of Hollywood have ever made a living doing so: Joe Eszterhas, Shane Black, and the guy who writes the copy for Scientology indoctrination videos. Paul worked as an indifferent parking attendant, a larcenous record store clerk, a bearded "That '70s Show" background extra, and a frequently-high usher at three different movie theaters, before he discovered standup comedy.  He has clinical depression, social anxiety, a weird neck, bad credit, a psychological addiction to medical marijuana, a physical addiction to medical marijuana, and a 2005 Honda Civic that he has named "Carson Daly".
Paul has performed at the Comedy Store, the Melrose Improv, Portland's Bridgetown Comedy Festival, the New Orleans Standup Comedy Festival, Seattle's Laff Hole, and the Atheist Alliance International Convention. He has NOT performed at the Lincoln Center, the Great Wall of China, the Brea Improv, the Hamburg Inn #2 in Iowa City, an empty field in western Maine, or any private residence except that one party at Babs' place.
Paul lives in Los Angeles with Jen Goldberg and their two large useless cats. His hobbies include hope and despair, rage and joy, and pretending that Jim Henson movies are real.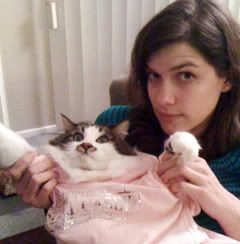 Jen is the girl. She is also the producer.